Christmas Pantomime - Mother goose and the golden egg
Augustenstrasse 72
70178
Stuttgart
Event organiser: Kulturverein Merlin e.V., Augustenstraße 72, 70178 Stuttgart, Deutschland
Information on concessions
Beim Kauf einer ermäßigten Karten muss der entsprechende Ausweis an der Abendkasse vorgezeigt werden (SchülerInnen, StudentInnen, Azubis, Bufdis und Arbeitslose).
Wenn im Vorverkaufssystem keine ermäßigten Karten angezeigt werden, gibt es für diese Veranstaltung keine Ermäßigung.
Event info
Mother Goose loves her daughter Freya and she loves the geese that she keeps but Mother Goose was born on the ugly side. Will she sacrifice Heidi, her favourite friendly goose, for her vanity? Will she give all away for a dip in that magical fountain of eternal youth, the bog of beauty? Mischievous Scandinavian Trolls, the mean landlord Baron von Rumpensmakka and his hapless sidekick, marching snowmen and many adventures accompany the story of Mother Goose, told in traditional Christmas Pantomime style with music, re-written songs, much comedy, fun and audience participation.

Suitable for anyone between the ages of 4 and 99.
Location
Kulturzentrum Merlin
Augustenstr. 72
70178 Stuttgart
Germany
Plan route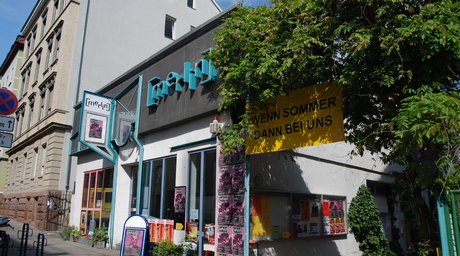 Das "Merlin" im Stuttgarter Westen ist über 25 Jahre alt! Doch wie kaum eine andere etablierte Kultureinrichtung ist es jung, frech, sexy und manchmal auch trendig. Künstler wie Helge Schneider, Georg Schramm und Musiker wie Niels Frevert oder "Bonaparte" haben hier schon auf der Bühne gestanden.

Anfang der 1980er wurde das Kulturzentrum ins Leben gerufen. Seitdem lockt es mit einem vielseitigen Programm und verschiedenen Festivals. Das Stuttgarter "ChanSongFest", das "Kabarettfestival" und die Stuttgarter Jazztage finden in den Räumlichkeiten Platz. Doch das ganz besondere sind die genreübergreifenden und neuen Kulturprojekte. Neue Trends werden entdeckt und gefördert. Dadurch ist das Kulturzentrum zu einer Art Kulturschmiede avanciert. Über 500 Veranstaltungen bietet das "Merlin" im Jahr an. Eine gemütliche Atmosphäre sorgt für perfekte Konzertabende. Das Kulturzentrum verbindet Kabarett mit Rock und Blues. Und stellt nebenbei auch noch Räume für Bürgerinitiativen, Podiumsdiskussionen, Workshops und Seminare zur Verfügung.

Das "Merlin" ist schon längst zu einer festen Kulturinstitution Stuttgarts geworden. Das außergewöhnliche Programm hat für jeden etwas passendes anzubieten – überzeugen Sie sich selbst!